Powerful, secure built-in virtualization that eliminates expensive hypervisor lock-in
Nutanix Acropolis hyperconverged infrastructure supports customer choice in virtualization solutions including VMware vSphere (ESXi), Microsoft HyperV, Citrix XenServer, and Nutanix AHV. Nutanix AHV is a license-free virtualization solution included with Acropolis that delivers enterprise virtualization ready for a multi-cloud world. With Acropolis and AHV, virtualization is tightly integrated into the Enterprise Cloud OS rather than being layered on as a standalone product that needs to be licensed, deployed and managed separately.
Common tasks such as deploying, cloning and protecting VMs are managed centrally through Nutanix Prism, rather than utilizing disparate products and policies in a piecemeal strategy.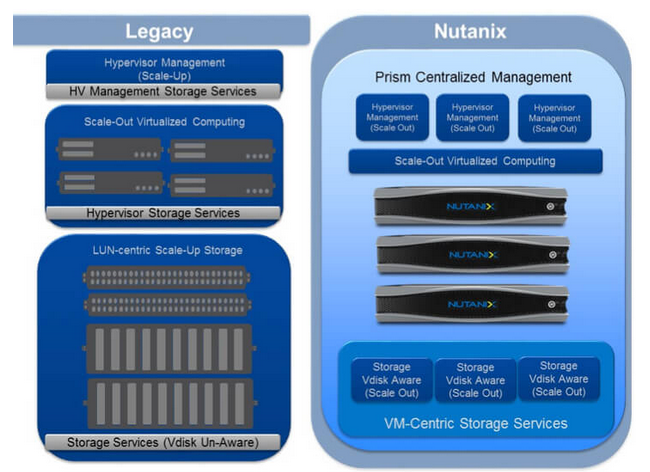 Native Virtualization
Nutanix AHV is an enterprise-class virtualization solution included with the Acropolis Enterprise Cloud OS, with no additional software components to license, install or manage.
AHV starts with proven open-source technology and combines an enhanced data path for optimal performance, security hardening, Flow network virtualization, and complete management features to deliver a powerful, leaner virtualization stack with no software bloat, no costly shelfware, and lower virtualization costs.
Application Mobility
The Acropolis Distributed Storage Fabric (ADSF) contains technology that allows applications and data to move freely between runtime environments, giving IT professionals the freedom to choose the best environment to run enterprise applications. This includes a broad range of capabilities for migrating between different environments, including from non-Nutanix infrastructure to Nutanix systems, between Nutanix systems supporting different hypervisors, and between Nutanix and public clouds.