The industry's most popular hyperconverged infrastructure (HCI) solution.
Nutanix Acropolis software converges compute and storage to provide cloud-like infrastructure that can run any application at any scale. Unlike other HCI products, Acropolis provides the freedom to choose the right technology for the business, including hardware platform, virtualization technology and public cloud integration. With in-built data protection, security, and self-healing capabilities, IT teams get a full stack solution they control, which can be deployed in minutes - without requiring teams of specialists.
Simplify your Datacenter
Eliminate the time and effort needed to design, procure and deploy infrastructure. Get started in minutes, with hyperconverged infrastructure that includes compute, storage and networking, and scales out as needs grow. IDC found that customers get 60% lower TCO with a 7-month payback period.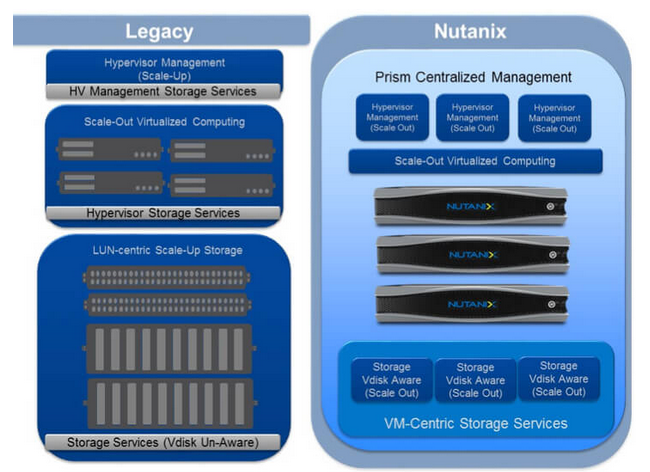 Eliminate Rigid Storage Area Networks
Replace expensive standalone and often rigid SAN and NAS solutions with a distributed pool built on direct-attached storage. Scale-out as your data grows, and increase storage performance by eliminating storage networking and specialized HBAs.
Bring your own Virtualization Software
Leverage built-in virtualization provided by Nutanix AHV, or use popular virtualization solutions from VMware, Microsoft or Citrix on Acropolis. Get rid of specialized management tools and centrally administer virtual machines alongside infrastructure.